Determining how much a website design should cost can be trivial. Most web design firms do not necessarily post their prices online as each development could vary from design to design. Each client requirements are quite different from each other and this article will provide some guideline on CUSTOM web design costs.
Our Web Design and Marketing team worked together to collect multiple quotes from different web design firms within the US to establish some baseline. They were able to gather up quotes from freelance web designers, small web design firms, and large established firms on different types of web design projects.
With the received quotes from multiple vendors, it was important for the team to examine each of the components that goes into determining how much a web site should cost. On average, the following cost can be applied to estimating the development of a web site:
Informational or Small Business Web Site Cost:
8 to 15 Web pages
3 Custom graphics outside the template
Paid Stock photos
Rotating flash banner or JQuery
Web forms sending to email accounts
Project duration: 15 to 20 days
Web site cost range: $1,500 to $4,000
Corporate (100 or more employees) with CMS Web Site Cost:
25 to 50Web pages
Heavy use of flash
High quality design work on all Web pages
Content management system (employees can manage their own website)
Extra components:  Intranet, Calendars, web site search
Project duration: 60 to 90 days
Web site cost range: $10,000 to $25,000
Ecommerce Web Site Cost:
100 to 1000 products
Shopping cart
Payment gateway integration
Product descriptions and images
Sales tax and shipping calculation
Customer and administrative control panel
Project duration: 60 to 120 days
Web site cost range: $5,000 to $15,000
Database Driven Web Site or Web Application:
Dynamic Web pages 20 to 2,000
Administrative control panel for web site management
Advanced programming skill sets required
Interactivity with web site visitor
Enterprise database (MS SQL Server or MySQL)
Project duration: 90 to 180 days
Web site cost range: $6,000 to $35,000
Based on the quotations we received, the cost of a web site can vary greatly depending upon the site's features, add-ons and plug-ins, aesthetic qualities, and the design firm, advertising agency, or freelancer creating the website. While the cost of a basic web site has dropped, the need for more interactivity has helped hold steady the price of a high-end, competitive Web design.
If you are considering a new or upgraded web site, we recommend that you view the portfolios of several Web design firms and inquire about their business establishment. It is also beneficial and time saving on your part to compare website design quotes and weigh your options. To start this process, feel free to fill out our free website design quote form.
 In social media, it's not what you know or who you know as it was in the past, rather it's who knows you. So how do you get known? In the business world, the use of social media for marketing purposes is key to success in today's society. We have all the tools at our fingertips; LinkedIn, Facebook, Twitter, and YouTube to mention a few, each free of charge.
Here are a few guidelines explaining how to effectively promote your business through the use of two of the most popular media's, Facebook and LinkedIn:
1. Create A Profile
Creating a profile (or Facebook page) is the first step in  successfully promoting a business. It's crucial to have a complete and professional profile free of clutter and easy to navigate. After all, a  first impression is often the most important.  There is nothing like reading a profile which is full of grammatical and spelling errors. I recommend using a word processing program to easily correct errors.
For more information on creating a profile, go to  Facebook-Profile Help and
LinkedIn-Profile Help. To view the components of a company profile on LinkedIn,  click here.
 2. Reach Your Target Audience
After you've  successfully created your electronic business card on LinkedIn, it's time to start building your Connections. The easiest way is to import your contacts through
your current e-mail provider. This  allows you to add people you know who are current members. You may also search for users through  specific search criteria such as: colleagues, classmates, common interest, etc.
For Facebook users, it's a little different ball game. Your challenge is to get others  to "like" your page.  In other words, become a fan. A few strategies to gain more 'likes" are:
1. Ask friends and family to like your page This is a great start to getting noticed. When a user "likes" a page, it  shows up on their  news feed. This  allows friends of that user to see what page their friend has "liked," and in return, a new person may "like," or become a fan of your page.
2. Post regularly and encourage comments
Updating your status and posting links or pictures shows up in your fan's news feed. If a fan comments on a post or picture, this will show up in their news feed, and may lead you to more potential page "likes."
3. Advertise – Facebook is like an advertising billboard allowing you to link your companies  website to your Facebook page. If you have the funds, buy an ad. Unsure about how to effectively use a paid ad? Check out the tremendous amount of literature and resources available.
 3. Leverage The Power Of Your Network
Take full advantage of the provided tools within each of the social networks. It's extremely important to consistently keep your connections and page fans updated on your products, promotions, events, etc.
Start or join a group to get your name out there. Participate in discussion boards or forums. Post blogs and link them to your LinkedIn or Facebook profile. If you follow these few steps, and utilize the tools available, you will be off to a great start in promoting your business.
Be known! Use the tools around you, because there is no rule to how many you can use.
Most of the business organizations rely on their own expertise when it comes to taking up a new task. Internet marketing is one such task that most of the companies deal on their own. However, due to availability of inadequate resources, organizations fail to apply effective Internet marketing strategies. As a result, the organizations remain stagnant. One of the best ways to set up a successful Internet marketing campaign is by hiring an outside expert. Given below are five reasons why one should hire an outside expert for internet marketing.
Effective Skills
The regular employees of an organization may not have all the necessary skills required to set up an Internet marketing strategy. Therefore, the outcome will surely not be fruitful. A highly skilled outsourced expert on the other hand knows about all the Internet marketing strategies that will best suit one's organization. Hence, by hiring an outside expert, one can expect to get a lot out of his/her Internet marketing campaign.
Save Immensely
Most of the regular employees do not undergo specific training for Internet marketing. Therefore, they are incapable of talking up the task. Moreover, in case the company plans to hire new employees, it may take a lot of time. Additionally, training the employees will also turn out to be an expensive affair. Most of the outsourced Internet marketing experts offer the best quality service at the most affordable cost. Thus, hiring one of these experts can surely help you save a huge amount.
Save Your Precious Time
The outsourced consultants work independently, as they do not operate under any company's authority. As a result, they do not come across any limitations and therefore, are capable of putting in their 100%. In this way, you get the most desirable results within a short period.
No Specific Contract
While opting for an outsourced expert for Internet marketing, you do not have to get yourself in limitation by signing a long time bond or contract. However, it is essential to build up a good relationship with the expert. As a result, you can hire him as and when required.
Profit Greatly
Hiring an outside Internet marketing expert will cost you less as compared to the amount that you would pay to your in-house experts for performing the same task. This will add up to the overall profit of your organization.
Make sure that you do good amount of research while searching for an outside expert for Internet marketing. Opt for the one, who is highly qualified and has a huge amount of experience.
Search engines such as Google, Yahoo, and Bing are powerful drivers of inbound marketing traffic and lead generation. While all online marketers should have a search engine optimization (SEO) strategy, they also need to caution about who they partner with to execute their marketing campaigns. SEO isn't easy unlike what others claim. It takes a significant amount of time dedicated to content creation and link building.
Too many companies spend money on SEO agencies that over-promise, provide guaranteed service, and eventually under-deliver. In HubSpot's newest ebook, they examine the common signs of poor SEO agencies and consultants. SEO is too important to inbound marketing success to waste time and money working with a bad partner.
10 Signs Your SEO Firm Isn't Worth the Money
Sign #1. Making Promises That Are Too Good to Be True
Sign #2. Using "Black Hat" SEO Techniques
Sign #3. Targeting the Wrong Keywords
Sign #4. Employing Shoddy Linking Schemes
Sign #5. Promising to List Your Site in Hundreds of Online Directories
Sign #6. Redesigning Your Site or Creating New Pages Without 301 Redirects
Sign #7. Focusing on Metadata Instead of On-Page SEO
Sign #8. Creating Bad Content
Sign #9. Driving Irrelevant Traffic
Sign #10. Offering a One-Time Fix With No Ongoing Maintenance
Click Here to download the complete EBOOK for more information.
It's amazing; with the vastness of the Information Highway, there are still potholes to fill. An article on finding your online customer base is one of them. In the SERPs, you get answers like, "add a credit card" or "accept checks online". Completely useless, so I won't even get into that. Hopefully this article will provide a better answer.
You can start a Facebook Fan page, a Twitter account, a Quora account, and wait for your customer base to find you. On the other hand, you can go where your customers are.
Where are they, though? Not everybody hangs out at the FB or Twitter water cooler, no matter what the reports say. So what's a business professional to do? Where can you find your online customer base?
It's all in the competition
Competitive research can really help you find your customers.
Competitors
"Competitors" for this exercise aren't necessarily those selling your product or service. Instead, the competitors can be more thought of "topical discussers" – i.e. those talking about the same or relevant things you might talk about.
Once you start the social process, many of these people and businesses could end up being the same ones you friend, follow, poke, prod and otherwise befriend. Also, remember social competitionisn't necessarily the same as your online business competition.
Your social competitors can be considered as:
Informational/Educational sites about your industry
Product/Service review sites (if your industry is listed)
Offline competitors with an online presence
Top ten results in the SERPs for your targeted terms
That narrows things down a bit, doesn't it? Let's filter the results a little more, because you might end up with 30, 40 or even more to start with.
Stay with me. Just a few more things, then we can put it all together…
Socializing
Gather your list, whether you just put it in a Word document, Excel or a piece of paper (we prefer Excel). Start visiting these sites. What you're looking for are sites with blogs and/or social accounts. Remove the sites in your list without these social aspects.
It's important to note that, even if your competitors are on a specific social platform doesn't mean you should do the same. They may not have done research to find their customer base, and just followed the crowd. On the other hand, there is nothing wrong with socializing and positioning yourself with these "competitors". With social, there are enough various approaches that partnering may not be a bad thing.
Researching Your Findings
Now that you have a list, it's time to spend some of your time checking blogs, seeing the type of communication they have with their readers, etc.
Visit your competitors' social accounts:
Do they have followers, fans, etc.?
What are they talking about?
Are people responding?
What hashtags (Twitter) or terms are they using with their accounts, if any?
What lists (Twitter) have they been listed under by followers?
How active is their Fan page (FB)?
*Bonus Tips:
If you already have a Twitter account, you can compare how your tweets are doing against a competitor by using Twitter Counter.
You can speed up the time by using Tweet Stats to analyze your competitors' accounts.
You can find a whole slew of Twitter tools and addons (some work with Facebook and other social) at One Forty. Many might be useful in your researching.
Visit your competitors' blogs:
Are people commenting on these blogs?
What topics do the blogs cover?
Does the blog allow sharing on social networks? Which ones?
Are people sharing these blogs on social networks? Which ones?
Overall, you want to find out if the social accounts your competitors are using can also be used as your customer base. As well, you want to find out if blogs are working for your competitors, because keeping up with blogging is a full time operation; you want to make sure it will be worth it for your company.
Search
If any of your competitors are using Twitter and non-branded hashtags, record those hashtags (example: #SEO) on your Excel or Word document. Then, go to Google Real Time Search and search for each hashtag. What you're looking for here is:
Relevant tags to your business and
Which ones bring the highest RTs, comments, etc. from others
For example, a GRT search for #real estate italy will bring back few results. This indicates that, if you're in Italian real estate, Twitter may not be the best place for you.
As well, visit the Videos search:
Search for competitors' names
Search for the same words they used with Twitter hashtags
Record the terms with 1) the most video results and 2) the most comments/views
Finally, use the Discussions search, using the same criteria.
* Bonus tip: If they're using hashtags, look at tweetreach.com and see how far their hashtags reach is actually going. You would be amazed at how much power some of these RT's have. Nothing wrong with positioning yourself with them.
Putting It All Together
By the time you're done with all the research, you should have a pretty good idea of where your online customer base is hiding. Just in case, here's a good checklist to follow for each potential place (download the large version here or by clicking the image below):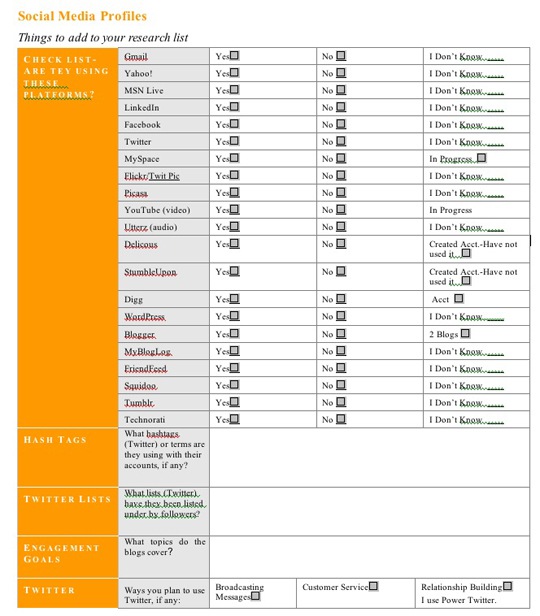 Are my competitors using [social platform]?
Have they gained a strong following?

Are followers actively RTing, commenting, responding?

Is this a good place, based on all the information, for me to put my time?
If yes, how long will I test [social platform]?
What metrics will I use to decide whether I should continue using [social platform] after [testing period]?
If you take notes during this exercise, you should also have:
A list of hashtags you can use for a Twitter campaign
A list of potential topics to cover/post/broadcast on Facebook
A list of potential forums or discussion groups to join
A list of potential topics for your own blog
A list of potential social platforms to target
Taking It Offline
If you have an offline presence, don't forget to include your social accounts (once you know which ones you'll be using) on your business papers. Sometimes, a business begins building an online customer base by starting with the one they already have – offline. As well, depending on your industry, you might be able to ask your customers/clients what social accounts they use.
Conclusion
This isn't a small undertaking. You may be saying, "This will take hours! I don't have time for this!" My question to you is, do you have time to build a customer base? How about, do you have time to reach out to your target market, get better conversions, provide better customer service and build your business?
No matter how long this type of research takes, don't give up. Keep in mind that, what you're ultimately doing is building your business on real results, rather than wasting your time with efforts that go nowhere. This is something you can track with hard data, no guessing. How many of us think we know only to find out we had no clue? We'd love to hear your thoughts!